21st November 2023: How migrant quota fraudster in Malaysia hides behind shell companies big wigs leaving workers victims of modern slavery
Trapped behind a fence that confined him to his hostel, Nepali worker Nabaraj, 26, was in a panic that had consumed him since the moment he was told he was leaving Malaysia for good, following his subjection to modern slavery.
Original Source: Malaysiakini by S Vinothaa & Ramu Sapkota – 21st November 2023
He and his brother, Suraj (not their real names) were given just 24 hours to pack their things to leave Malaysia for good, in late October.
"I was told today that I will be flying back tomorrow," Nabaraj told Malaysiakini with the help of his co-workers acting as translators.
His hardened face and gruff voice belied the fear of returning to his vegetable seller job at a Nepali market earning a meagre 500 Nepalese rupees (RM17.70) per day – less than RM500 a month.
Despite their family being mired in debt, the brothers boldly secured hefty loans from multiple sources to cover recruitment fees and pinned their hopes on the promised three-year contract as cleaners in a Malaysian resort town, aiming for a double monthly income of RM1,500 for the family.
A socioeconomic dream of all migrant workers in Malaysia, but for Nabaraj and Suraj, that dream has buried the family under an ever-growing mountain of debt with little chance of escape.
The brothers returned home having earned only three months' salary as they were unemployed for the first five months in Malaysia.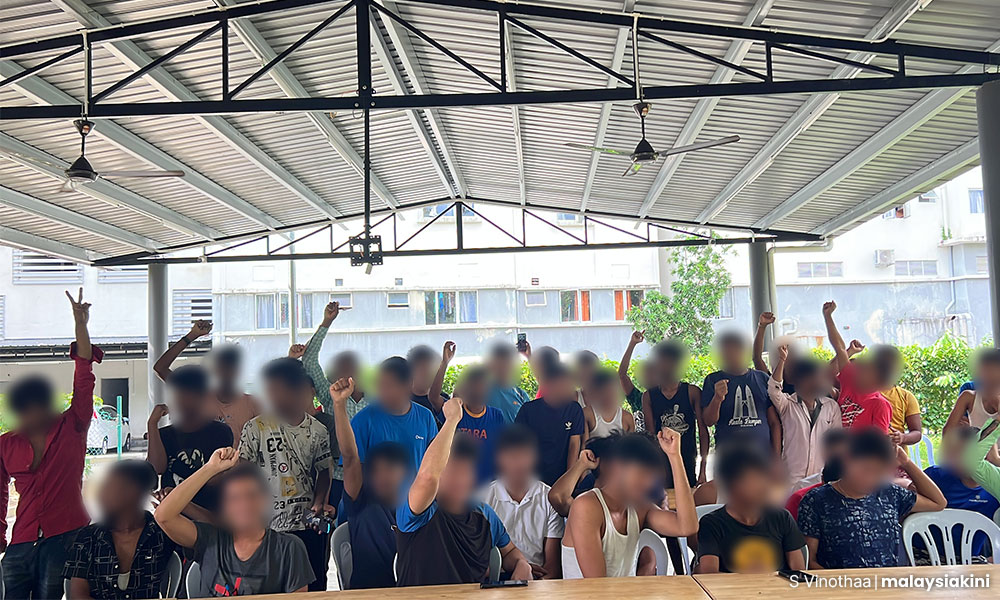 Workers who arrived in Malaysia found there were no jobs waiting
When they arrived, they found no such cleaning jobs available.
After months of unemployment and zero income, they were made to work at a dairy factory, a job which required heavy lifting, Nabaraj said.
Not long after, he was involved in an accident which resulted in a spillage of milk. He said it was because he could not lift the vat of milk due to a previous injury.
"I came to Malaysia to work as a cleaner in Genting Highlands under Star Domain Resources, and this type of work (lifting milk vats) is not what I signed up for," he said.
His brother Suraj, meanwhile, was among a group of workers who got into a brawl among themselves at the hostel.
Deemed a liability, the brothers were told to pack up and were sent home with 24 hours' notice, without any money to repay the 300,000 Nepalese rupees (RM10,600) each outstanding from the loans they took to come work in Malaysia.
Star Domain Resources Sdn Bhd was among six companies which Malaysiakini found were granted hundreds of quotas for migrant worker imports from the government by submitting false documents.
Approval granted to Star Domain Resources to bring in migrant workers
Mastermind behind the mayhem
To expose how the contracts were fake, Malaysiakini set out to verify the details of the contracts and found company registration numbers, addresses, and client names to be fake.
However, establishing the link between the fraud and the fraudster, who multiple insiders alleged was pulling the strings in all six companies in the syndicate, is less straightforward.
This is because the alleged syndicate mastermind used shell companies or existing companies owned by others and left no money trail which could link him to the businesses.
Insiders told Malaysakini that all payments were handled in cash and transported in large duffle bags.
Multiple individuals involved with the companies confirm having dealt with this person. Malaysiakini is withholding his identity pending his response.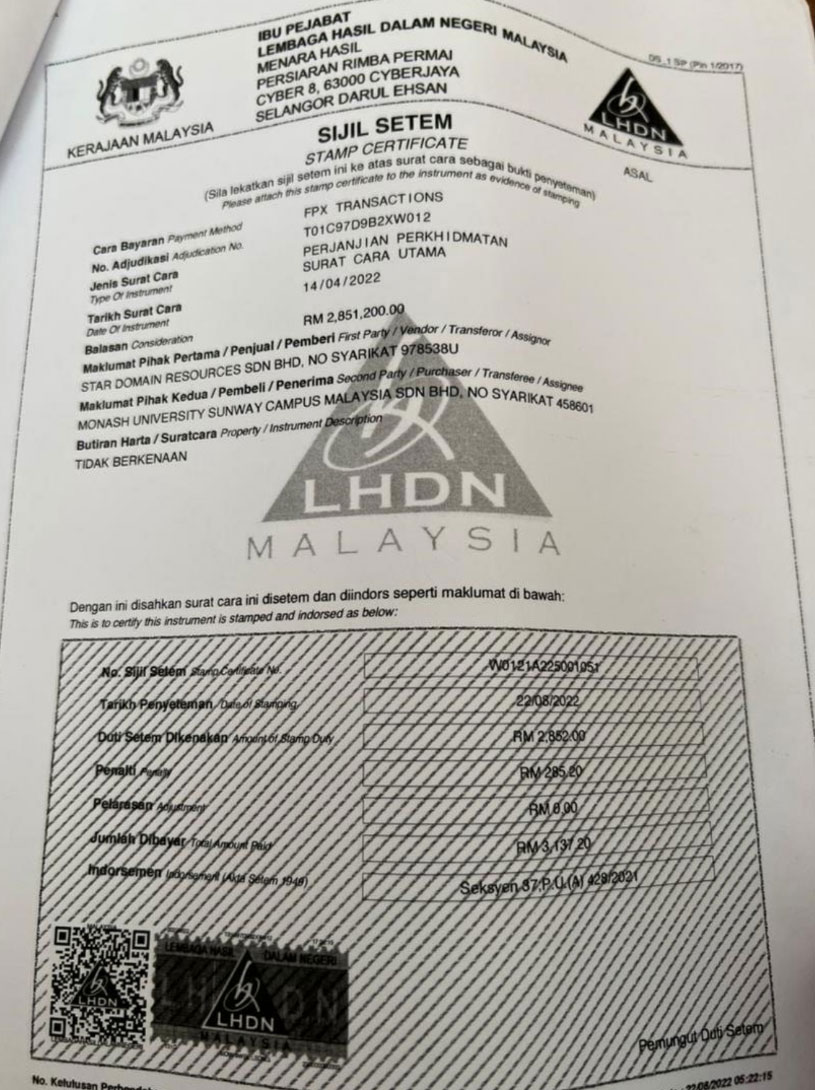 A fake certificate submitted by Star Domain Resources to win migrant worker import quotas
The mastermind allegedly bought RM2 companies fresh off the shelves and handpicked company directors, proxy shareholders, and management, leaving no official link between him and the companies.
Alternatively, he used existing companies, convincing the owners to be part of the scheme but keeping his name off the books.
All of those whom the mastermind brought into the operations knew very little about the migrant recruitment business.
This meant he could give detailed instructions on how to manage the bundles of documents and bureaucracy of worker quota applications without any of the local staff suspecting something was amiss.
But the law may soon catch up with him.
According to the police's Commercial Crime Investigation Department (CCID) director Ramli Mohamed Yoosuf, the alleged mastermind was arrested on July 10 over allegations that he was part of a migrant worker recruitment scam.
Ramli said the police acted on a report by a permanent resident who said they lost RM1 million in the migrant worker recruitment scam, led by the 46-year-old man, who is currently out on bail.
He said police are also probing several Malaysian companies involved in the recruitment and employment of migrant workers and their connection to this man.
The companies include Star Domain Resources Sdn Bhd, Aecor Innovation Sdn Bhd, Puncak Jupiter Management Services Sdn Bhd, QL-marketing Sdn Bhd, GTM Marketing, and Buloke Holdings Sdn Bhd (Maxim).
Malaysiakini has contacted the owners of these companies for comment.
Bigwigs add legitimacy
According to insiders, the business appeared very legitimate. There were detailed recruitment procedures to adhere to and proper digital infrastructure, they said.
This included a custom-built operating system, which Malaysiakinisighted, through which local operations staff and recruitment agents in sending countries would manage the copious amounts of documentation needed to bring hundreds of workers into Malaysia.
Some of the local staff joined after learning of the high-profile individuals associated with the businesses.
One individual who seemingly matched that description was Ng Yeen Seen, a business consultant who in 2016 was recognised by the World Economic Forum as a "Young Global Leader".
Yeen Seen was senior vice-president of the think tank Asli and the daughter of former Gerakan national treasurer Ng Chiang Chin.
On the World Economic Forum website, she is listed as sitting on a Unesco committee for youths in Asean and various government councils and is often interviewed in the media as an analyst on various issues.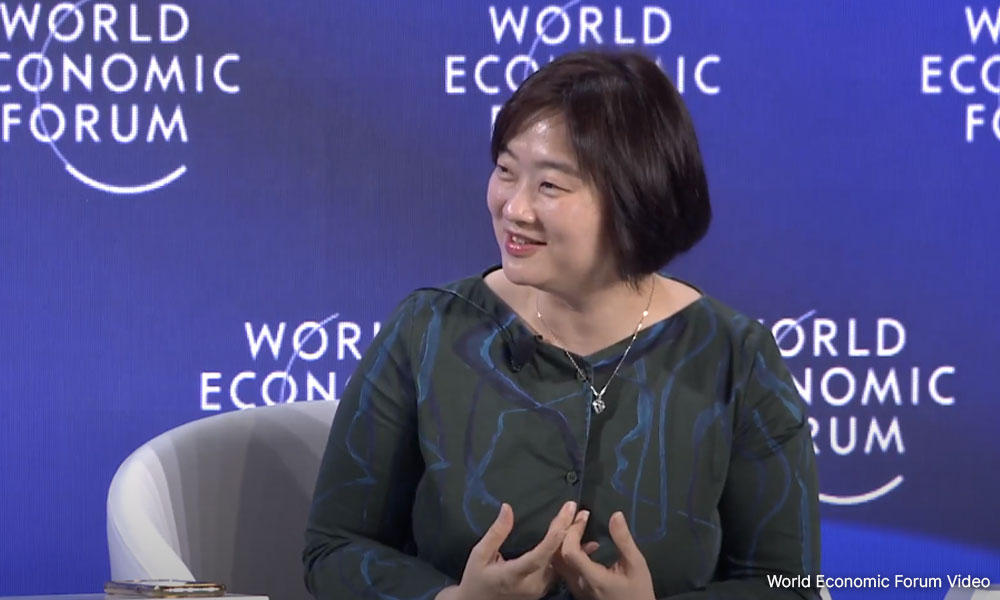 Ng Yeen Seen speaking at a World Economic Forum event in June 2023
She is also the owner and director of Aecor Innovation, one of the companies being probed by the police over a migrant worker scheme that Malaysiakini found to have fraudulently obtained foreign worker recruitment quotas.
When interviewed, Aecor Innovation's workers, who found themselves jobless for months after arriving in January, said Yeen Seen was the person who communicated with them after they arrived and was directly involved in the workers' management.
When met, she attested to the alleged mastermind's remarkable persuasiveness and gave the impression that she was duped.
However, she declined to speak on the record further. She said it was because she lodged a police report on the matter and did not want to jeopardise investigations.
She said she lodged the report in October, a month after Malaysiakinifirst met with her over the migrant worker recruitment issue, and nine months after she learnt that workers arrived under Aecor Innovation's quota without jobs waiting for them.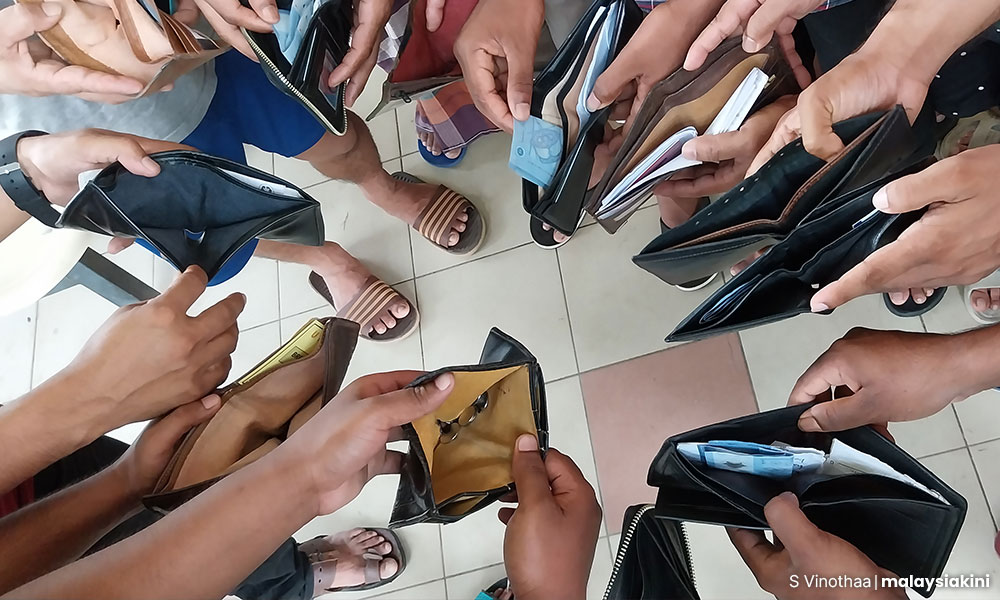 Workers who found themselves stranded and jobless for months, showing Malaysiakini their wallets
Lofty public profiles
Patricia Choo Siew Wei, 46, holds 95 percent of shares in GTM Marketing, a company that fraudulently obtained quotas to import migrant workers
Despite controlling the company, she told Malaysiakini she had no knowledge that her company was involved in the recruitment and employment of migrant workers.
She said that responsibility rested with her managing director, Wong Kong Choong @ Leong Kong Choong, 52 – better known as "KC Wong".
Like Yeen Seen, KC, too, had a lofty public profile. In 2016, he was awarded the "Asean Business Award in High-Impact Business Model".
A founding managing director of GTM Marketing, KC has decades of experience in various industries and founded public-listed Versatile Creative Bhd in 2000.
He was a professor at the Malaysian Hospitality College – a college his brother Wong Kong Yew @ Leong Kong Yew founded – in 2015 and a trustee of the Autorr Foundation charity.
Kong Yew, 49, who owns the remaining five percent of GTM Marketing, also has a prominent public profile, holding the CEO position in public-listed marble and granite producer Stone Master Corporation Bhd for a year.
Describing himself as an economist, Kong Yew was also the first president of the Malaysia Centre for Tourism and Hospitality Education, a programme under the Najib Abdul Razak administration's Economic Transformation Programme, and was also vice-president of UCSI College.
The Wongs did not respond to requests for comment.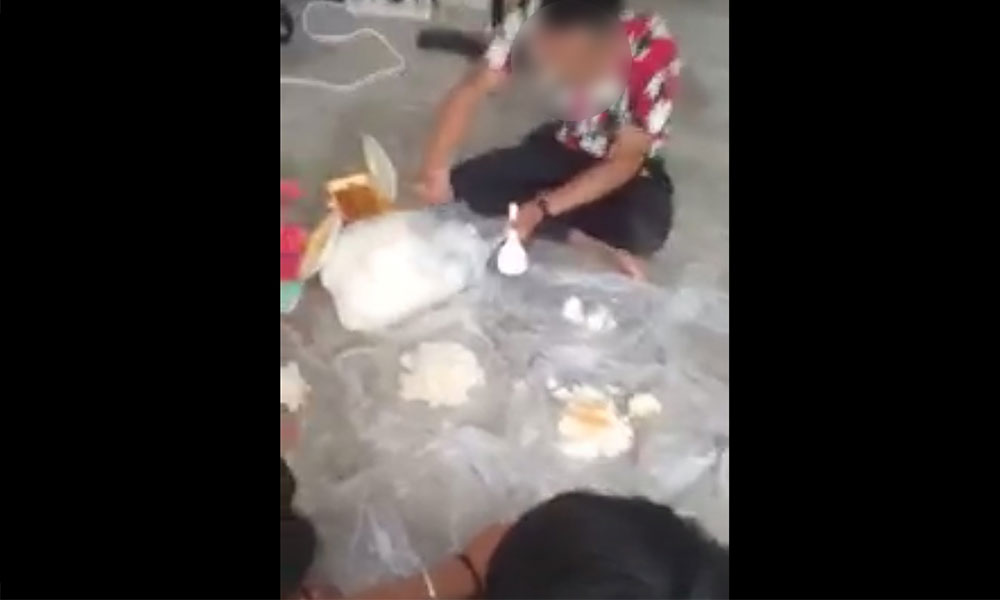 Jobless for months, workers only had enough money to eat rice and plain curry once a day
No food, no job, no money
Half a year has passed since the Labour Department first visited a hostel in Nilai where the jobless migrant workers were housed.
As recently as Oct 28, a distressing and recurring situation unfolded for 58 workers from Yeen Seen's Aecor who hit rock bottom for the second time this year. They have run out of food.
One worker told Malaysiakini they were having one meal a day which consisted of rice and plain curry until food ran out completely and they starved for days, too ashamed to send out pleas for help.
They survived after a local NGO, who heard of their plight, sent provisions.
"We have no money and we are ashamed to keep asking the same people or people we hardly know. Our employer doesn't pick up our calls anymore," he said.
At home in Bangladesh, their families are not spared. Debt collectors continue to knock on their families' doors, seeking repayment for loans taken to pay for recruitment fees.
Worker holding a form from the Labour Department, to consent to a transfer to another employer
But recent developments may promise a better ending.
On Nov 1, the workers said Yeen Seen met them at their hostel in Nilai and said they would be "transferred" to a multinational shipping company, Maersk.
They showed Malaysiakini the photocopied job application form, with Maersk's logo, that she gave them. It doesn't say what jobs were on offer.
When contacted, Maersk confirmed it is working with the Labour Department to "assist recruiting the displaced migrant workers" but will not provide further details.
On Nov 2, the workers said the Labour Department moved them to a different accommodation in Puchong, Selangor, and they started receiving meals three times a day.
They don't know why the latest developments have occurred. They also don't know if they will receive their unpaid back wages.
The Labour Department had stated that employers must pay migrant workers monthly wages, even if they were not put to work.
However, the department did not respond to Malaysiakini's questions about Aecor workers' back wages and other matters raised in this article.
It remains to be seen if the mastermind will be charged, or if Aecor owner, Yeen Seen, the Wongs, or any other persons named as directors or owners of the firms involved, will be penalised for what happened to the workers.
As of Nov 17, Aecor's workers are still jobless.
Even so, they're grateful for their regular meals and are cautiously optimistic that the worst is over.
See more: 26th Nov 2023: Malaysian human rights (Suhakam) commissioner wants task force to probe migrant worker quota fraud.
See more: 24th November 2023: AG's report: HR, Home ministries must decide who takes full ownership of Malaysia's foreign worker management system – Comments by Andy Hall.
See more: 22nd November 2023: Full probe of migrant worker syndicate, Malaysian HR Minister Sivakumar.
See more: 20th November 2023: Migrant worker import quota in Malaysia won via fake contracts, then traded for millions.