Is there any hope left for foreign worker ethical recruitment certification schemes such as IOM IRIS? (Updated)
The IOM IRIS (International Recruitment Integrity System) programme, funded mainly by the Swiss government/SDC, started 7 years ago in 2016.
IRIS has the purported aim to develop ethical recruitment standards and certify ethical recruitment agencies around the world to support to ensure prevention of modern slavery (particularly through debt bondage and other forced labour indicators), particularly in global supply chains. IRIS is a multistakeholder initiative, it is claimed.
As we approach 2023, now IOM announced during the IHRB/Leadership Group on Responsible Recruitment's Global Forum on Responsible Recruitment (GFRR) that just ONE manpower agency has been certified as ethical. And its a domestic worker manpower agency!
Yet millions of dollars of taxpayers money, aid money and perhaps even corporate money has been injected into the IRIS programme to ensure prevention of modern slavery, particularly in global supply chains. Many global brands and initiatives allied themselves with IRIS.
But until now, not ONE manpower agency actually supplying workers into the global supply chain of these brands, companies or suppliers has actually been certified as ethical.
IOM announced at the GFRR a few more agencies are in the pipeline for certification for IRIS. There seems however no clear and objective guidelines about which manpower agencies across the world get IOM IRIS team capacity building, mentoring and audit preparation support (see IRIS Labour Recruiter Capacity Building Programme info at https://iris.iom.int/getting-started-iris-certification)
This raises serious concerns about transparency and objectivity of IOM staff and management of the IRIS programme too. Who do IRIS support? Who gets certification support and opportunities? Where is the objective application criteria to join IRIS? Why do some agencies get support whilst others dont get a response and support to improve?
Likewise, the Responsible Business Alliance (RBA) and its partners like the Fair Hiring Initiative (and its On the Level certification scheme), often funded by businesses including Walmart (Foundation), have sought to certify manpower agencies as ethical but until today, not ONE manpower agency has been certified by these two programmes.
Clearview (with Stronger Together) recently certified TWO US agencies as ethical with their relatively new ethical recruitment standard (see https://www.prnewswire.com/news-releases/first-farm-labor-contractors-flcs-in-the-us-achieve-clearview-certification-for-responsible-recruitment-practices-301386796.html).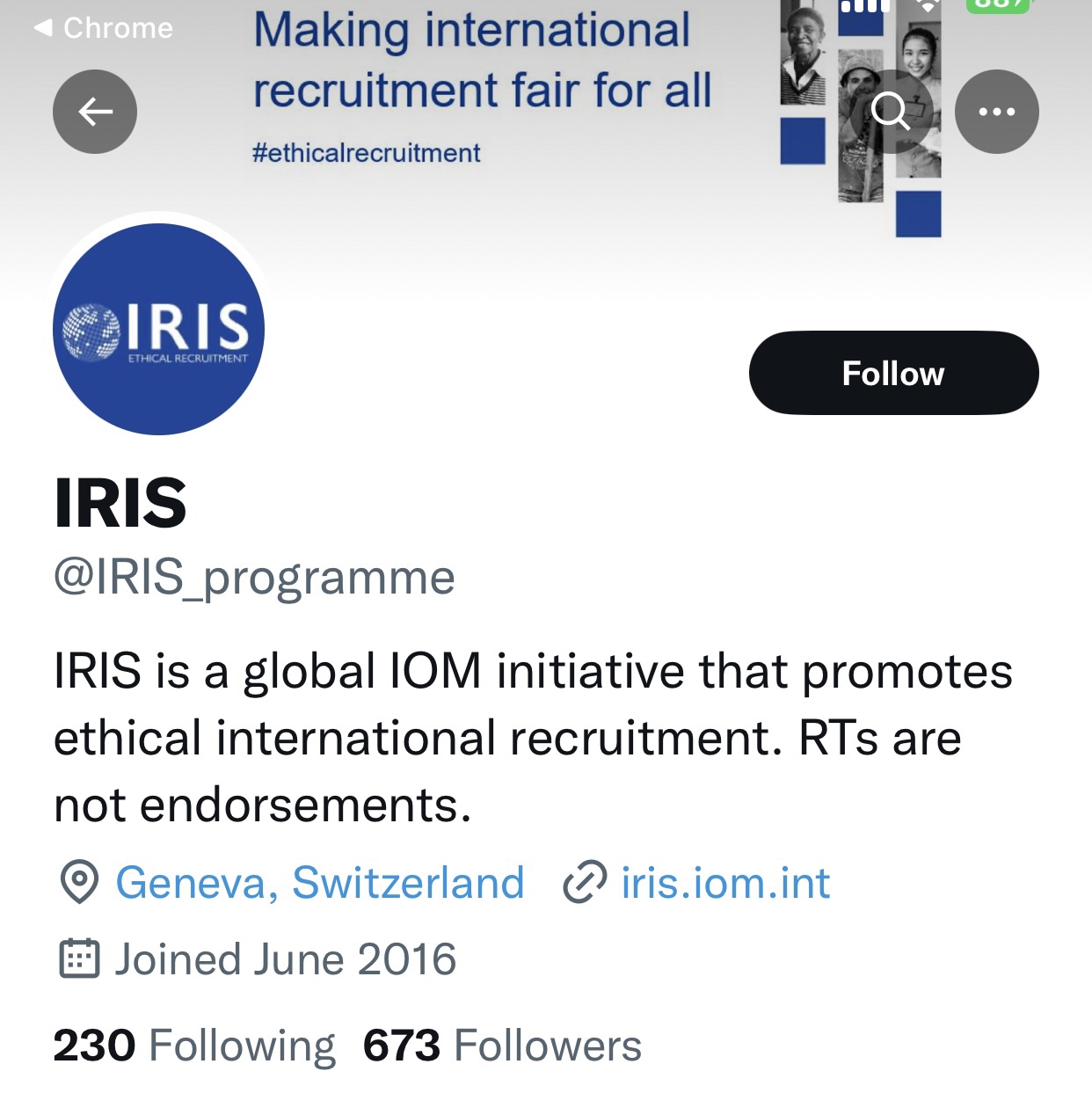 Why has ethical recruitment certification been relatively unsuccessful and what are the alternatives?
The lack of success comes simply from the lack of practicality of the IRIS scheme and other schemes, the theoretical 'Western' approach to audits and standards. IRIS and other schemes have wrongly focused on conceptual developments and trainings, audits, meeting after meeting with stakeholders, rather than undertaking grassroots mentoring and genuine practical support to well intentioned manpower agencies when and where it is needed.
These certifications schemes like IRIS have not until now created a demand for ethical recruitment, they have not incentivized ethical recruitment for agencies facing significant cash flow and other challenges in a post Covid world. IRIS and it's partners have not until now made any inroads into creating a significant ethical recruitment market around the world.
For me, the practical and urgent alternative to certification (or more important complementary approach) is ethical recruitment pilot projects.
Business, buyers, brands and investors as priority actors (and MSIs) need to fund and support supplier ethical recruitment pilot projects now that have a real and immediate impact, as a priority. This is a practical approach, but simply.
The talking should cease, the action should start. Start doing ethical recruitment, monitoring ethical recruitment, supporting ethical recruitment, learning from challenges and real world situations. Stop meetings, stop discussions, and stop the continued and wasteful naive Western theoretical debate on standards.
The learnings from practical ethical recruitment pilots project can but inform certification programmes, if and when they are required.
We need to create an ethical recruitment market now not with knowledge and theory but with money, resources and practical support.
We need demand for ethical recruitment, and not just supply of ethical recruiters who cannot survive commercially.
Only then will we see a reduction in the number of victims, migrant workers indebted and in forced labour and debt bondage from unethical recruitment and exorbitant recruitment related fees and costs.
For now, IOM IRIS, it's partners and global brands, investors, buyers and those concerned have failed these victims. They deserve better now!
See also for more commentary: 'How can responsible recruitment of migrant workers move from rhetoric to reality?' Andy Hall, Migrant Worker Rights Specialist at https://www.business-humanrights.org/de/blog/how-can-responsible-recruitment-of-migrant-workers-move-from-rhetoric-to-reality/