'We cannot go back to Myanmar': Rubber giant Ansell accused of abandoning workers in Thailand
Singapore: Glove-making rubber giant Ansell has been accused of leaving workers from Myanmar high and dry and afraid of being forced back to their conflict-ravaged home country after laying them off suddenly from its factory in Thailand.
Original Article: The Sydney Morning Herald by Chris Barrett – August 14, 2023.
The ASX-listed personal protective manufacturer employs hundreds of Burmese migrants on the production line of its facility east of Bangkok, which is a key operation in its global supply chain.
But migrant worker advocates and leading human rights lawyers claim the company has left workers at risk of forced labour and human trafficking by "severely underpaying" them in compensation packages after they were abruptly told last month that they would no longer have jobs.
"We are very worried about our future," said one of the 42 retrenched workers, speaking on the condition of anonymity because of concern about how they could be treated.
"We cannot go back to Myanmar. We don't have enough money, and we don't want to go back because of the situation there."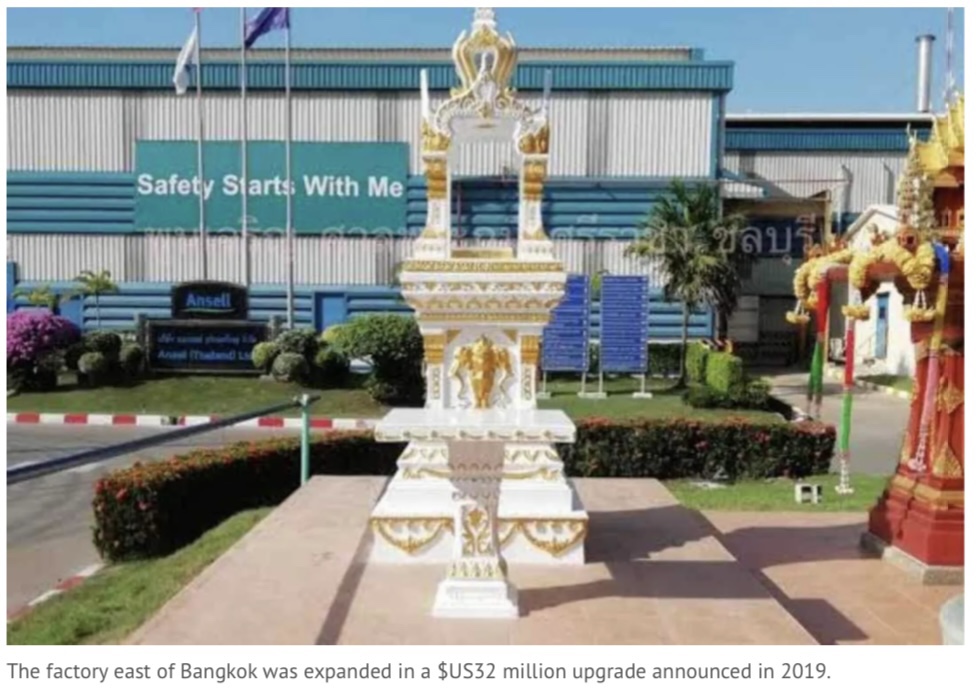 Myanmar is Not Safe To Return To
A second worker added: "Most of the workers, if they go back to Myanmar in their villages, there is civil war and the situation is not safe for them.
"We don't want Ansell to terminate the other people, and we don't want other people to face the same problems."
Management at Ansell in Thailand is alleged to have told the workers from Myanmar at a meeting on July 19 that they would only receive severance packages if they returned to their country. Myanmar has descended into chaos in the two-and-a-half years since the military there reclaimed control in a coup.
After inquiries from this masthead, Ansell has said the offloaded employees would receive termination payments even if they remained in Thailand, as all but seven of the 42 have done.
However, the workers say Ansell is shortchanging them on compensation and that they have been subjected to harassment from their former supervisors after refusing to go.
Aged between 20 and 45, comprising both men and women, the Burmese staff had in some cases worked at the Ansell factory in Thailand for more than a decade and were paid based on the average daily minimum wage, which is 388 baht ($17).
Ansell is Obligated Under Thai Law To Fully Compensate Workers
Until last year, though, they were outsourced workers, not direct employees of Ansell, and the company has sought to pay them out only for the short time they have been on its payroll. Chatmanee Taisonthi, an associate lawyer with human-rights-focused Bangkok firm Rising Sun Law, said the workers had been offered about half of what she believes they should receive, leaving them underpaid an average of 40,000 baht ($1750). She said Ansell was obligated under Thai law to compensate them for the full period they worked at the factory.
"Even if the workers worked for a subcontractor, as they did, Ansell would be considered as their employer," she said.
"They worked in the manufacturing process at that factory."
In a statement, an Ansell spokesperson said final payments to the workers comprised remaining wages, an additional month's pay as notice and severance pay, and the company had been in discussion with Thai authorities about their options to remain in Thailand and find new employment.
"Ansell has met all its obligations under Thai law, including on severance payments, to former employees of its Bangkok plant," the spokesperson said.
"The company acknowledges the complex situation that migrant workers in Thailand currently face. We have been in contact with our former employees and continue to seek constructive dialogue with their representatives as we work through options for providing additional financial support as they transition to new employment."
Comments by Andy Hall – Independent Migrant Worker Rights Specialist
Independent migrant worker rights specialist Andy Hall said the Burmese workers were in danger of being exposed to forced labour and trafficking with their immigration documents having expired. They feared deportation to Myanmar, where they could be sent to underground camps just across the border, he said.
"These are workers who have worked their arse off during the pandemic when [Ansell] made so much money," Hall said.
"These are really high-risk people. They've failed to adopt a humanitarian approach [so they can] dispose of workers as easily and simply and cheaply as possible."
Ansell has been grappling with oversupply issues as orders fall for its products coming out of the pandemic.
More than 3900 people have been killed in Myanmar since its armed forces seized power in February 2021, jailing democratically elected leader Aung San Suu Kyi and violently cracking down against resistance.
See more: New York Times 15th Aug 2023: Solar Company Says Audit Finds Forced Labor in Malaysian Factory.
See more: 16th May 2023: 'No work, money or food' – nightmare of Bangladeshi and Nepali migrant jobseekers in Malaysia.