'If we leave, Nepal will suffer': embattled hospitals fear impact of UK job offers
As nurses in Nepal weigh up the benefits of an NHS salary, any staff drain will worsen shortages in the country's creaking healthcare system
Article Available: The Gaurdian by Pete Pattisson and Pramod Acharya in Kathmandu and Malangwa
The emergency department at Kathmandu's Bir hospital is already packed with patients, but still they come, in wheelchairs and on stretchers, filling every space. A man is lifted off a bed, still attached to three tubes, to make room for a new arrival. Another is handed an oxygen mask from a fellow patient. Security guards man the sliding metal entrance gates to try to control the flow.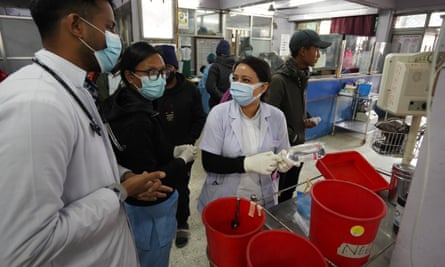 "It's very difficult. Always busy – even more than this. Sometimes, [there's] two or three to a bed," says nurse Shalu Chand, squeezing between two patients on trolleys as she rushes to fit a saline drip. "The workload is too much and the salary too little."
Overcrowded wards, long waits for treatment, rundown infrastructure, staff shortages and low pay characterise much of Nepal's public health system, and yet, under a deal signed last year between the UK and Nepal governments, healthcare professionals from this impoverished country are to be recruited to work in the NHS.
The agreement was signed despite Nepal being on the World Health Organization's "red list" of countries that should not be targeted for recruitment because of their own shortage of healthcare professionals. While the WHO does not prohibit government-to-government recruitment deals from such countries, it states that any agreement should, "ensure adequate domestic supply".
Figures for the number of healthcare professionals in Nepal vary, but according to a study in the Lancet, the country has an estimated 28 nurses and midwives for 10,000 people, compared with 131 for 10,000 people in the UK.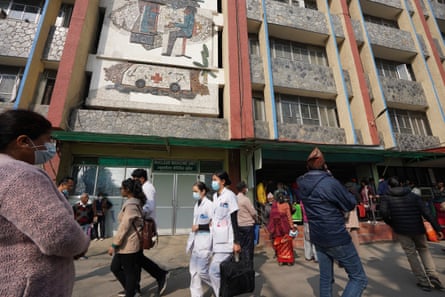 Up to 100 Nepali nurses will be recruited in the pilot phase, but the agreement states that a unit will be established in Nepal to "develop a sustainable recruitment pathway, initially focused on nurses and subsequently other healthcare professionals, from Nepal to the UK".
A spokesperson for the UK Department of Health and Social Care (DHSC) said the scheme would "benefit Nepali nurses economically and professionally with training and development opportunities, which they can take back home to help strengthen their country's health system".
The NHS is increasingly turning to the developing world to plug the gaps in its workforce. Almost 24% of nurses in the NHS reported a non-British nationality, with the proportion from Asia rising from 7% in March 2019 to almost 14% in June 2022.
The scheme has been welcomed by Nepali nurses, who are excited by the opportunity to earn much higher salaries in the NHS, but experts warn that it could exacerbate the dire staffing problems facing the health system in Nepal. The shortage is particularly acute in government-run hospitals and in rural areas, in part due to the failure of successive governments to appoint doctors and nurses to fill vacant posts.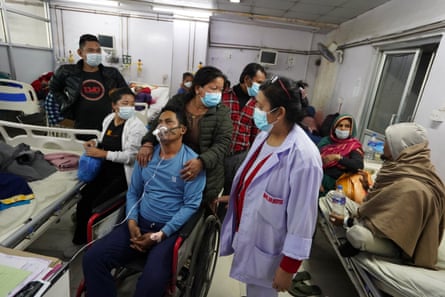 "We are very short of nurses in government facilities. There should be one nurse to six patients, but in reality it is one to 20 or 30," says Prof Goma Devi Niraula, the director of the ministry of health and population's nursing and social security division.
"Government nurses will definitely apply to go to the UK because the salary and benefits are much better. We cannot stop them, but if all the talented nurses leave, how will the healthcare system improve?"
Without proper planning to meet the need within Nepal, this [deal] seems a kind of official smuggling
SP Kalaunee, public health expert
SP Kalaunee, who has worked in public sector healthcare for more than two decades as a researcher, advocate and director of a nonprofit, says: "I don't want to deny the desire of young people to go abroad, get experience and earn money, but without proper planning to meet the need within the country, it seems a kind of official smuggling."
Nepali nurses already leave the country in large numbers, often paying high fees to local recruitment agents to arrange their jobs, leaving them deep in debt. The UK scheme promises "fair and ethical" recruitment, but concerns remain that nurses could be forced or duped into paying to secure their posts in the UK.
Last year, the Guardian revealed that some Nepalis recruited to work on British farms had allegedly paid the equivalent of more than £3,000 to secure their jobs. Licensed recruitment companies in the UK have stopped recruiting from Nepal, citing the risk of exploitation.
The DHSC spokesperson said: "We are using media channels in Nepal to make clear that nurses will not be charged for recruitment nor forced to pay illegal recruitment fees."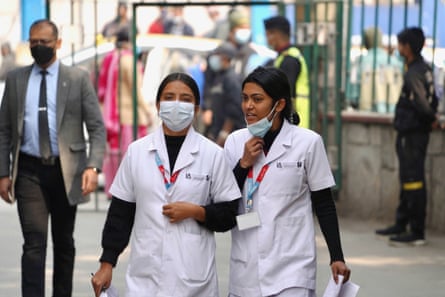 In Bir hospital's staff canteen, nurse Manisha Nath and two colleagues are considering going abroad. "For us, the UK is a dream country," she says. "You will get to learn new things, and money also matters." Nath is aware the decision could have an impact at home. "If we go, the country has to suffer. If we stay, we have to suffer."
Kalaunee says the problem starts with medical education, which most students have to pay for themselves. A four-year nursing qualification at a government college can cost 1,200,000 rupees (£7,570), while private colleges charge up to 2,000,000 rupees (£12,620). "If they borrow money or sell land to afford it, they have to find a way to pay it back," he says.
But with salaries for government staff nurses starting at about 34,000 rupees (£215) a month, that is hard to do. In private hospitals – which make up the majority in urban centres – salaries are as low as £95 a month. "It's just pocket money," says Ava Nepal, a nurse at a private hospital in Kathmandu. "I'm here to gain experience, not a salary."
Bir hospital's deputy director, Anupama Karki, is sympathetic to the nurses' predicament. "Nurses are suffering here, but what will happen to the country if they all leave? The UK will be getting qualified people without making an effort and we are losing them. I don't think that's a good thing."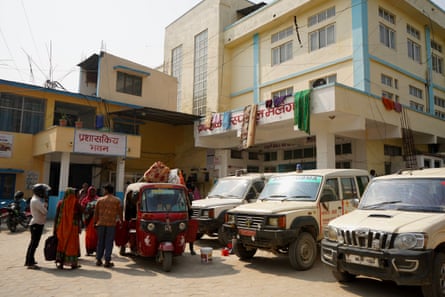 Hundreds of miles away in the rural district of Sarlahi, which borders India, Dr Nawal Kishor Jha, the medical superintendent of Malangwa hospital is equally exasperated. Told about the crisis in the NHS, he says: "There's a crisis here, too. We need 40 staff nurses but we have been allocated only 11. All hospital managers are facing the same problem."
Jha is particularly concerned that the NHS will recruit only the most experienced and skilled nurses, leaving a void in hospitals such as his. "There are very few high-quality nurses here, but they are the ones the UK will hire. We will lose all the best ones," he says.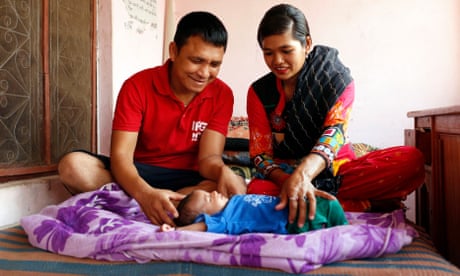 He could be thinking of Sahista Begum, one of the hospital's most experienced nurses. Begum is calm and confident as she walks through the hospital's corridors, lined with families camping out on foam mats while they wait for their loved ones to be treated. The toilets smell and wires hang out of an open electrical fuse box, but the hospital is a lifeline for the community. Begum and her team help to deliver about 3,500 babies a year.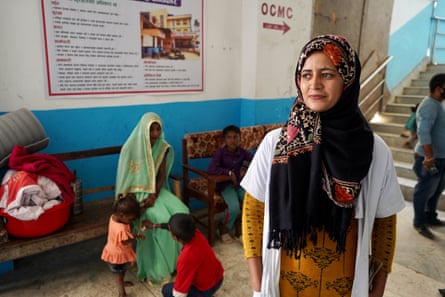 Begum has heard about the UK recruitment scheme and is considering applying. "It would be an excellent opportunity for me. I would get a better salary and become more knowledgable, which is nearly impossible in Nepal," she says. "If I leave, the hospital and community will suffer for a while. It would be difficult to get another experienced nurse here, but after a few years others will take over."
With the first batch of Nepali nurses due to start work in the NHS in the autumn, Kalaunee warns that anything that weakens healthcare in poorer countries could have unforeseen consequences. "After Covid, we know that we cannot ignore health anywhere," he says. "Sickness in the developing world can easily reach the developed world."
The government of Nepal has been approached for comment.
See also: Reuters: 14th July 2023 – Migrant farm workers from Indonesia/Nepal claim asylum in the UK, trapped by recruitment debt bondage.
See also: 30th March 2023: UK retailers urged to compensate Nepalese and Indonesian ex-farm workers.